You are invited to attend the next DAUGHTERS OF THE KING event that will be held at the Holy Voice Coffee-Bookstore & Gifts on Saturday, MARCH 17, 2018 – 7pm  – 1109 CRYVILLE ROAD, OTTAWA.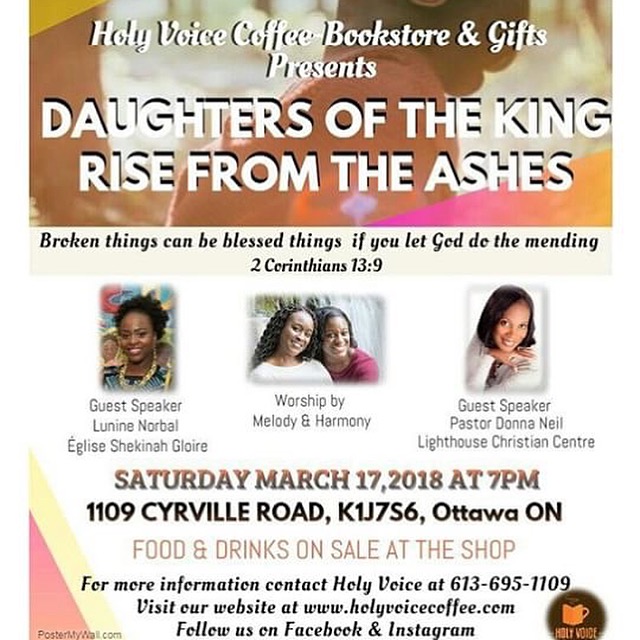 DAUGHTERS OF THE KING  – RISE FROM THE ASHES will be a night to INSPIRE and ENCOURAGE all women to become who God created them to be, and to EMPOWER them to embrace life with a smile.  You will leave knowing that as "Daughters of the King , you were born for such a time as this. Esther 4: 14
FOUR WONDERFUL WOMEN OF GOD will share their stories, testimonies and giftings:
* Lubnine Norbal,  EGLISE SHEKINAH GLOIRE, MONTREAL,
* Pastor Donna M. Neil, LIGHTHOUSE CHRISTIAN CENTRE, Ottawa, and
* Sisters Melody and Harmony, WORSHIP LEADERS FROM NEW YORK will lead us in worship.
IT WILL AN AMAZING AND INSPIRING EVENING ON  MARCH 17.
I AM EXCITED TO SHARE MY STORY WITH YOU!  So, LIKE AND SHARE and INVITE EVERY WOMEN YOU KNOW.
YOU FLOURISH!