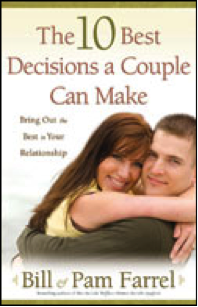 For many years, I have read the books and other materials authored by Bill and Pam Farrel, co-founders of Farrel Communications, an organization that provides practical insights for personal relationships. I personally can say that I have gleaned much from their books about how to sustain a successful marriage. What I love about them is the humor, practical knowledge and biblical truth they bring to their writings, as well as to their audio and video materials. One of their books of which I am very fond is The 10 Best Decisions a Couple Can Make, published by Harvest House.
My Summary Highlights: Drawing primarily from the overall theme of what is love found in 1st Corinthians 13, the Farrels take you on a journey of self-discovery of the potential that lies within your own marriage. Every marriage, no matter the number of years – sometimes need a bit of revitalization. The 10 Best Decisions a Couple Can Make is full of wisdom and practical insight and tools that you can use to build a lasting marriage. An added feature included in the book is small group and couple discussion questions, as well as Mentoring Moments for deeper reflection.
As mentioned on their website at http://love-wise.com/10bestcouple.php, the book explores issues related to romance, communication, sex, conflict resolution, family, and personalities, and walks couples through the ten decisions that will:
turn me and me into "we"
strengthen the foundation of their family
redeem past bad choices and give hope for a solid future
bring balance to roller coaster emotions
create a life together of trust, grace, and understanding".
After going through the pages of this book, get ready to gain renewed passion in your marriage.
Happy reading!