On May 20, 2015, Donna Neil was the keynote speaker at the Federal Department of Justice, Policy Sector Connections Group event. It was a superb opportunity to hear her experiences and thoughts about leadership and purposeful life transitions.
Organizers of the Connections Initiative designed the event to give Justice employees an opportunity to benefit from the experience and knowledge of key leaders from various walks of life on issues relating to career advancement, leadership, and life transitions.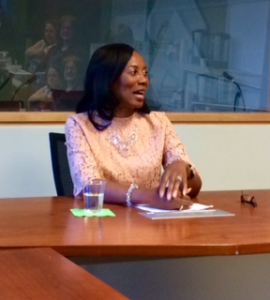 The event on May 20 was very successful and included good interactive discussions. There was also time reserved for networking immediately preceding and following the event. The theme of the presentation was: Purposeful Transitions. Suzanne Fortin, Director of Priorities and Planning – acted as a moderator. The positive connection between the two women was palpable, and as Donna spoke of her journey as a Senior Advisor in the Federal Public Service and a new enriching chapter of her life, she invited everyone in the room to connect with her and to discover an inspiring story of change and transformation.
Donna is currently a well-respected speaker, career and business woman who has a passion to see women and their families rise to their full potential in every area of their lives. As an entrepreneur, she is the founder and business owner of Donna Neil Productions. She is also the Founder of the You Flourish Leadership Program for Women – a platform that provides mentorship, teaching, and life-skills learning through specifically designed and tailored one-to-one and group mentorship programs, thematic/issue-based workshops on a wide array of topics, yearly "highlight" events, including key opportunities to connect, network, and build healthy relationships with like-minded women of all ages
Donna spoke on how she transitioned the skills acquired as a Senior Advisor in the Federal Government – including consultation management, strategic and policy advice, and leadership – to fully embrace a new career in the private sector.
We want to hear about your story of a purposeful life transition. Share with us now!
You Flourish!