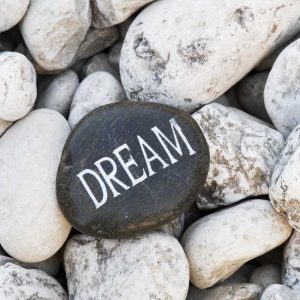 It's a new season, new week, and a new day! I am sensing excitement the air as we look forward to the coming Spring.
This new season provides an opportunity for refreshing, renewal, and new growth. As seeds or roots which lay dormant beneath winter's blanket of snow; these same seeds ready themselves to produce plants and beautiful flowers.  Consider it this way, the subsequent flowers or plants of spring are the resulting manifestation of the dormant potential or "dreams" which once lay hidden throughout the winter season.
Winter is often considered a time to reflect, reexamine, review and recommit to our personal goals and dreams. During the winter you may not be able to realize everything you had set out to accomplish in your lives, but if you trust in the validity of your dream – it is then you are able to wait for its reveal in the coming spring.
Paul in Philippians 3:12-17 alluded to this when he said…
Not that I have already obtained all this, or have already arrived at my goal, but I press on to take hold of that for which Christ Jesus took hold of me… I do not consider myself yet to have taken hold of it. But one thing I do: Forgetting what is behind and straining toward what is ahead, I press on toward the goal to win the prize for which God has called me heavenward in Christ Jesus.
This right here is the attitude we need to grab on to!
I encourage you to press into your DREAM!  Press into the goal(s) that have been given to you!
NEVER STOP DREAMING!
The time it takes to convince yourself to give up is the same amount of time it takes to listen to what God is saying to you!  He boldly declares to you to dream because HE is able to do far more than we would ever dare to ask or even dream of!  This is how you build your faith and confidence in Him. He builds your faith by giving you a dream. It may not be clear at the onset, but when God wants to work through your life, he always begins by giving you a dream.
Are you a dreamer?  We have many examples of dreamers who accomplished great things which have inspired generations…
Noah was given a dream to build an ark…
Nehemiah was given the dream to build the wall around Jerusalem…
Joseph dreamed he would be a leader and effect positive change for his people…
Abraham by faith believed in a godly dream that he would be the father of a great nation.
Take a bold step and be convinced that YOU are a dreamer. That idea you have been thinking about or wrestling with thoughts as to whether it's God leading you or not — take the time to STOP and PRAY for confirmation. When God gives you a dream it will be according to HIS Word!  He will never lead you into anything contrary to His truth. With this in mind you will know that you can do ALL things through CHRIST!
Remember, there is no failure except in giving up. God's got you, so dream on!
So, what will be your next move DREAMER?
You Flourish!